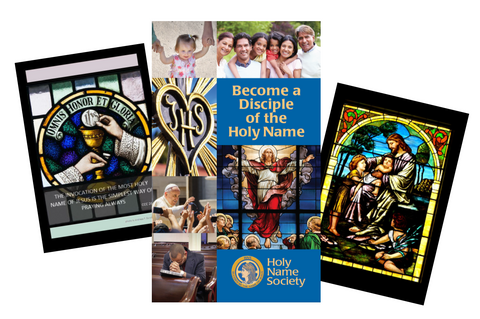 130 Hand-to-Hand Evangelization Kit
This kit is used by Holy Name members to promote the Society, to help people begin devotion to the Holy Name, and to invite people to become Disciples of the Holy Name.  This is an ideal kit to have when promoting the Holy Name Society at a parish, diocesan, or regional Catholic event.  It is great to have when you are present at any place or event where Catholics are gathering.  
This kit includes the items you should give away while at the event, and also includes samples of the items new people will receive at no cost when they sign up as a New Disciple of the Holy Name.
The Hand to Hand Evangelizaton Kit includes:
Items to be Given Away:
| | | |
| --- | --- | --- |
|  QTY | Item # | Description |
| 1 | 151-100 | 100 of Draw Closer to Jesus Prayer Card |
| 1 | 152-100 | 100 of Way of the Holy Name Prayer Card |
| 1 | 155-100 | 100 of the Invite to Disciple |

Items Included as Samples - So People Can See What They Will Receive When They Sign Up as a New Disciple:
| | | |
| --- | --- | --- |
| QTY | Item # | Description |
| 1 | 150 | Collection of Holy Name Prayers |
| 1 | 153 | Reparation Prayer Card |
| 1 | 154 | Petition Prayer Card |
---
We Also Recommend